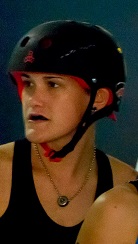 Name:  Captain Twitch
Number:  J18
What's the story behind your name and number?
My name and the J in my number is the combination of nicknames from three of the most important people that were in my life so why not play in memory of them and let them continue to be a part of what I love. My number 18 is the number I've had all my life playing sports and is my favorite.
What positions do you play?
I am a blocker.
What is your favorite thing about derby?
I love how it is constantly evolving and is very strategic. I love having a challenge from day to day and that is what derby is, it seems like if you miss a practice you have missed so much. Also the hitting part is pretty fun too.
What first attracted you to the sport?
I knew absolutely nothing about roller derby when I started but once Jams P. Skullivan and Little Miss Maggot talked me into joining the fresh meat class I was instantly hooked!

What is the most valuable thing you've learned from playing?
That roller derby is unlike any other sport out there that I have played. You are not just teammates, you are one huge family and that is one of the greatest feelings to have. It puts a whole new perspective on what we are taught about not judging a book by its cover because everyone has their own story and background.
What are your goals as a player?
My goals are to just keep progressing in the sport and learn anything and everything I can to be a better player, not for just myself but for the team.
What is your most memorable moment on the track?
I haven't been playing long but so far the most memorable was playing Acadiana Rollergirls and I managed to get their jammers to cut twice in that bout giving us two power jams!
What type of gear do you prefer?
I recently just bought 187 killer pads and love them. I also just switched to Antik skates and wish I had started out with them because they are awesome.
Do you have a favorite song to skate to or a theme song?
"My Songs Know What You Did In The Dark (Light 'Em Up)" by Fall Out Boy
What is your favorite sign or cheer you've seen or heard from the crowd?
RED STICK, PURPLE STICK, OI, OI ,OI!!
If you could arm wrestle any person in the league, who would you arm wrestle and why?
That would be Val Killmore!
Is there a teammate with whom you work the best?
I feel like I work well Honey Badger Von Sparkles and really everyone else on the team. It seems that we all just click and know what to do with everyone.
What sports did you play before you laced up the quads and took to the flat track?
I have been playing soccer since I was 12 or so. I also used to race four wheelers and dirt bikes to keep myself busy on the weekends.
What do you do when you're not skating?
If I'm not skating, I'm at work wishing I was skating or I'm reading about what I can try to make myself a better skater. Or trying to catch up on sleep!!
Do you have any advice to anyone thinking about taking up derby?
Do it! Don't think twice about joining and just go for it. It will change your life in the best way! I had never quad skated before I started so don't let that scare you off!
When did you join Red Stick Roller Derby?
In the February 2013 fresh meat class.